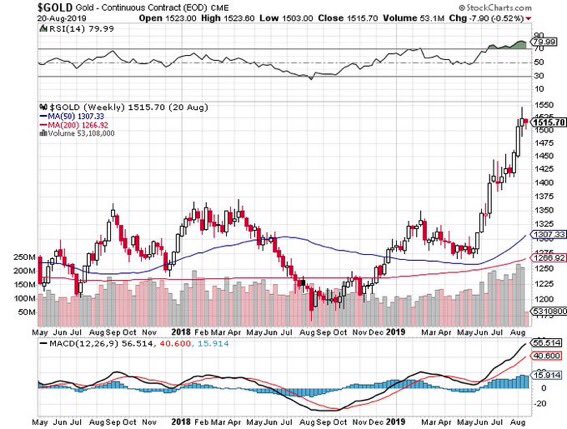 This summer while many investors were away for family vacation, gold made a major breakout through $1350 USD and into new multi-year highs as we highlighted.  Now its only a stone's throw from $1600. Then only a short few weeks ago, silver followed gold breaking out of a major base.  Now its above $19.


The Gold-Silver Ratio which hit a high above 90 to 1 this summer is now breaking down finally.  That's a good sign for the small junior explorers that are closely correlated with silver. The juniors have been pretty much ignored since 2012.  We could be just starting an inflow back into the junior miners.  Prior rallies like 2003-2007 and 2009-2011 could signal a powerful reversal of the prior bear market trend.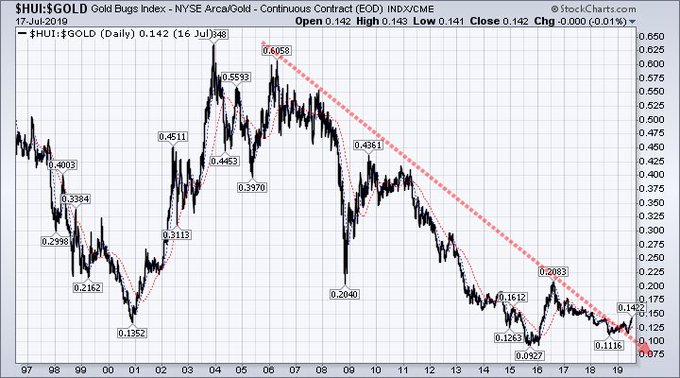 Look at this chart of the gold stocks in relation to gold bullion.  Its finally breaking out of downtrend after hitting a record low.  Notice how the early investors in that bull market in 2000 made out.
News is beginning to hit the markets from some of our explorers.  I have a few investments in the Golden Triangle in BC this season.  This is where we have seen a lot of interest by the majors recently most notably Newmont in their recent investment in $GTT.V GT Gold which continues to hit great results but may be fairly valued at $110 million.
Another one which is just getting started is Libero Copper $LBC.V which should change its name and add gold as they just made a significant gold discovery today.  Their Geologist and VP Exploration is  Leo Hathaway who works with Ross Beatty at Lumina and has 25 years experience making numerous discoveries.
Leo was very instrumental in the early success of Lumina started in 2004 and now has over a $200 million market cap.  Libero still has a market cap under $15 million but they are working on a project which looks almost identical to GT Gold early days in the Golden Triangle.  Their Big Red Project looks very exciting especially after all the technical modeling work done by Leo and the team.  They see some parts of the project with great potential and just raised $3.7 million to drill it.
Today Libero announced sampling results which confirm a new gold discovery.  "5 contiguous 50 metre continuous rock chip samples returned intervals of 2.91 grams per tonne gold over 250 metres including 6.14 grams per tonne gold over 100 metres in two contiguous samples."  Drilling this September could confirm another major Golden Triangle Discovery that hardly no one knows about yet.  See the full news release by clicking here...
Libero will be presenting at MIF in Vancouver and Precious Metals Summit in Beaver Creek.  Schedule a meeting by contacting them here: +1 604 638 2545 info@liberocopper.com
See my new interview with Libero $LBC.V VP Exploration Leo Hathaway by clicking here...
Best wishes,
Jeb Handwerger
Disclosure:
Author (Jeb Handwerger) owns shares in LBC.V and they are a featured sponsor company.  Sponsors are website advertisers so that means I have been compensated and have a conflict of interest to help boost awareness of this story. The content of this article is for information only. Readers fully understand and agree that nothing contained herein, written by Jeb Handwerger about any company, including but not limited to, commentary, opinions, views, assumptions, reported facts, calculations, etc. is to be considered implicit or explicit investment advice. Nothing contained herein is a recommendation or solicitation to buy or sell any security. Author is not responsible under any circumstances for investment actions taken by the reader. Author has never been, and is not currently, a registered or licensed financial advisor or broker/dealer, investment advisor, stockbroker, trader, money manager, compliance or legal officer, and does not perform market making activities. Author is not directly employed by any company, group, organization, party or person. The shares of these companies are highly speculative, not suitable for all investors. Readers understand and agree that investments in small cap stocks can result in a 100% loss of invested funds. It is assumed and agreed upon by readers that they will consult with their own licensed / registered financial advisors before making investment decisions. Readers understand and agree that they must conduct their own due diligence above and beyond reading this article. Author is not responsible for any perceived, or actual, errors including, but not limited to, commentary, opinions, views, assumptions, reported facts & financial calculations, or for the completeness of this article or future content.