I recently interviewed Robert Giustra Chairman of Allegiant Gold $AUAU.V $AUXXF who introduced us to what I consider one of the best exploration stocks in Nevada.   See the full interview by clicking here…
https://www.youtube.com/watch?v=6Wa1Te-g2O0
Jeb Handwerger
Hi Robert! Allegiant is a new company but it is managed by the most experienced technical gold  exploration team in Nevada that have a track record of finding economic gold mines.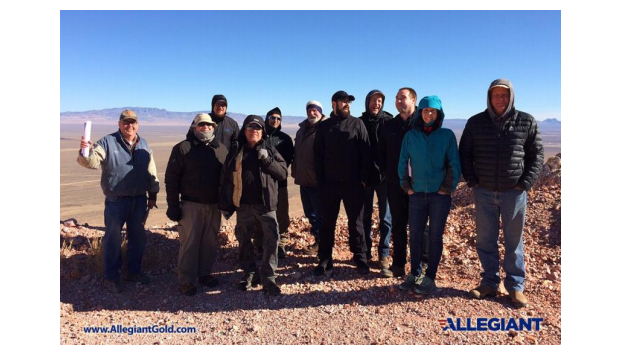 Robert Giustra
Allegiant checks all the boxes for a junior gold exploration company.  Its the right story at the right time in the right place managed by the right people.  What I mean by the right people is the track record of the leader Andy Wallace who is personally responsible for many gold discoveries in Nevada which have became famous gold mines.  His group started out under the leadership of John Livermore and the team currently includes Pete Chapman, who is also credited with some major gold mine discoveries.  This is such an impressive team. I'm just not aware of any others with a track record like this in the junior gold exploration industry.  We are very fortunate to have this team leading the gold exploration efforts for Allegiant.
Jeb Handwerger
I saw a statistic that only one in a thousand prospects becomes a gold mine.    You not only have these explorers with an impressive track record of finding economic gold mines but you have others on the team and Board who worked with the majors.
Robert Giustra
When you have a team like the one we have, it increases the chances of success.  We have an extensive portfolio of well defined targets on projects that have been selected by the Cordex Team.  In addition to Andy, we have added some corporate and capital markets strength with Russel Ball, who only a few months ago was CFO of Goldcorp and prior to that he was CFO of Newmont.  Those are two of the three largest gold mining companies in the world.  We also have the former president of Eldorado Gold, which has more than a billion-dollar market cap.  We have expertise at all levels of the management team, from boots on the ground technical experience to capital markets experience.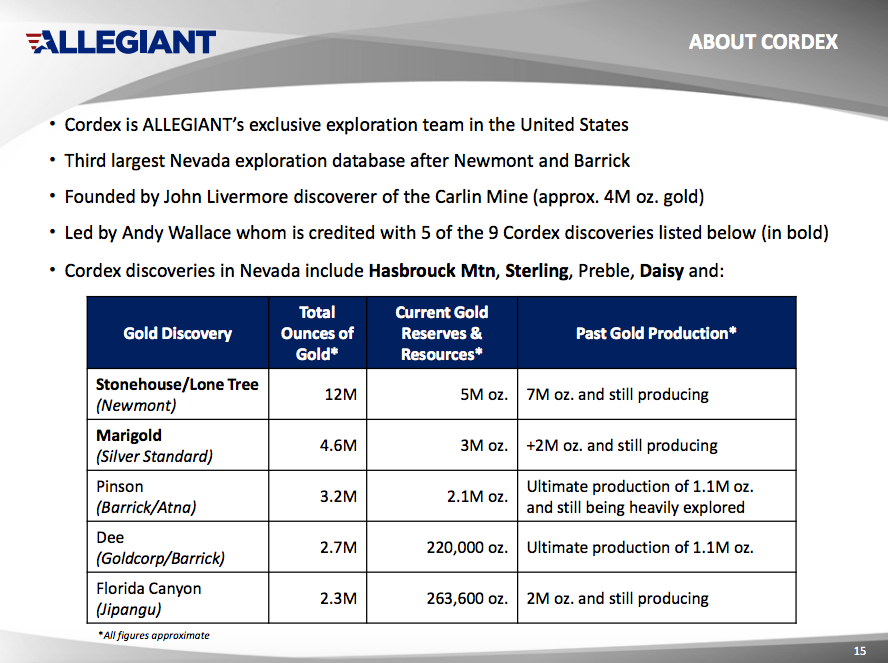 Jeb Handwerger
Allegiant is focused on gold exploration in Nevada, which most investors know is one of the best gold mining jurisdictions in the world.  Tell us about the projects.
Robert Giustra
The portfolio is unique because it is backstopped by a more advanced project, the Eastside gold project, which has approximately 750k ounces of gold defined in a pit and additional ounces  outside the pit.  We have some really great drill targets that were defined by Andy Wallace and the Cordex Team.  Allegiant plans to drill ten projects this year.  Remember these are not recycled projects. They were all identified by the Cordex team through grassroots prospecting, which is how Andy and the team have been successful in the past.  The team gets out into the field and get their hands dirty.
Jeb Handwerger
Let's talk about that Eastside Project.  You added an extra drill rig.  What's happening there?
Robert Giustra
Eastside is the most advanced asset.  There is RC and Core being drilled now.  Core is stepping out 300 meters to the south of the existing pit and the RC drill is stepping out 300 meters to the west.  We're drilling about 50 holes with the goal of doubling the number of ounces in the pit and hopefully reducing the strip ratio.  We've drilled 18 holes which 11 holes have already been announced.  Drilling will take us into September.
Jeb Handwerger
Allegiant is a new company, it just trading in the US for about two months.  Its valuation appears to be low compared to other Nevada explorers.  Could you comment on this?
Robert Giustra
We've only been public for a couple of months and just got an OTCQX listing, which is vital as it is a US story.  Our story is American Gold as John Livermore and his protégé, and our CEO, Andy Wallace discovered the Carlin Trend in Nevada, which started a major gold rush and created a whole new gold industry in the state.  We have a large US following.  Our valuation is extremely modest as value is only being assigned to one project, Eastside, which has ounces in the pit.  None of the upside in the other 13 projects is being reflected in the company share value or the nine other projects we plan to drill this year.
Jeb Handwerger
This undervaluation could change, especially if you make a new discovery, as there are relatively few shares outstanding.  Could you discuss the share structure and the shareholder support you  have?
Robert Giustra
We have around 6k shareholders, 4k shareholders in the USA, 2k in Canada.  One of the largest shareholders is Van Eck, the largest gold fund in the USA.  Its not often to see a tight share structure like this.
Jeb Handwerger
Gold could be about to breakout into new 10 year highs when looking at in Canadian dollars and top gold explorers in the best mining jurisdictions will come back into favor as the producers can not replace their reserves.  Stick to teams with track records like the Cordex team at @allegiantgold $AUAU.V $AUXXF.  The gold breakout could soon be here! Allegiant Gold starts life as an attractive explorer with a proven exploration team, a portfolio of promising targets in mining-friendly jurisdictions, and ~$4 million in cash.  Allegiant Gold shares heading to 90 cents, Beacon Securities said.  It was currently trading at more than half off that below 45 cents.
Thanks Robert for being here with us today!

Robert Giustra
My pleasure Jeb.
Author (Jeb Handwerger) owns shares in Allegiant Gold and the company is a website advertiser so that means I have been compensated and have a conflict of interest to help boost awareness of this story. The content of this article is for information only. Readers fully understand and agree that nothing contained herein, written by Jeb Handwerger about Allegiant Gold, including but not limited to, commentary, opinions, views, assumptions, reported facts, calculations, etc. is to be considered implicit or explicit investment advice. Nothing contained herein is a recommendation or solicitation to buy or sell any security. Author is not responsible under any circumstances for investment actions taken by the reader. Author has never been, and is not currently, a registered or licensed financial advisor or broker/dealer, investment advisor, stockbroker, trader, money manager, compliance or legal officer, and does not perform market making activities. Author is not directly employed by any company, group, organization, party or person. The shares of Allegiant Gold are highly speculative, not suitable for all investors. Readers understand and agree that investments in small cap stocks can result in a 100% loss of invested funds. It is assumed and agreed upon by readers that they will consult with their own licensed / registered financial advisors before making investment decisions. Readers understand and agree that they must conduct their own due diligence above and beyond reading this article.  Author is not responsible for any perceived, or actual, errors including, but not limited to, commentary, opinions, views, assumptions, reported facts & financial calculations, or for the completeness of this article or future content. Author is not expected or required to subsequently follow or cover events & news, or write about any particular company or topic. Author is not an expert in any company, industry sector or investment topic. 
_______________________________________________________
Sign up for my free newsletter by clicking here… 
Order premium service by clicking here…
Please see my disclaimer and full list of sponsor companies by clicking here…
To send feedback or to contact me click here…
Tell your friends! Please forward this article to a friend or share the link on Facebook, Twitter or Linkedin.
For informational purposes only.  This is not investment advice.  May contain forward looking statements.