Buy Fur Coats During A Summer Heat Wave...buy junior miners during the summer doldrums when most people are snoozing.
My Father grew up in the garment business as my grandfather had a successful tailor and dry cleaning store in the South Bronx right off the Bruckner Blvd.  One of the first lessons he taught me was buy the highest quality winter gear during a heat wave in the summer.  Most people don't even look out a few weeks let alone a few months.  Use other people's shortsightedness as an advantage to get bargain basement opportunity.
Although its the summer doldrums and its hard to stay focused on the markets, we must not ignore the few areas in the mining sector that are really drawing the attention of the markets.  Eventually our sector will come back and could possibly lead.  Look at oil and copper a couple of years ago it was in the basement and now it has led over the past year.  It almost moved up so high recently that I got nervous for a short term pullback.  Same with gold miners they will eventually come back into favor as the explorers are having a hard time finding new economic gold deposits.  There will be more investments into the juniors notice the recent strategic move of Goldcorp to take a position in Allegiant Gold which I featured only a few weeks ago right here...
Let's look at three current positions that I have recently featured.  Since early May some of our featured companies are up exponential.  This has come at a time when frankly the junior mining sector has sucked.  In some ways its almost as bad as the end of 2015.
Nevertheless, don't give up hope.  Attention should be paid as there is a major conference in Vancouver all next week run by the big boys Sprott, Rick Rule and Doug Casey.  I expect a lot of news going into that conference and possibly buying in the market as you have the top mining promoters and investors who can afford the $900 entrance fee.  Unfortunately, I will not be able to attend but I will have subscribers there that could report back.
http://www.cvent.com/events/2018-sprott-vancouver-natural-resource-symposium/custom-17-1bdaa1f10192419d9f2f6ef3b95b8f23.aspx

First off there are two areas that many of my active subscribers are currently interested in and that I expect to see a push at the conference.  One of them is the golden triangle in BC. Its getting a lot of interest.  Last summer a few stocks went from pennies to dollars as they hit with drilling.  I think we could see another summer of great results thanks to the global warming in that area that has led glaciers to recede and new gold targets to be found. I recently highlighted and bought shares in the open market of $GOT.V Goliath Resources run by Roger Rosmus.
 

They are drilling two new discoveries during this season. Management is very confident that this year's drilling success will have a positive and material impact on the market cap.  The stock is on the verge of a major cup and handle breakout at $.28 where the next stop could be $.40 according to the technicals.  Give Roger Rosmus a call if you would like to learn more!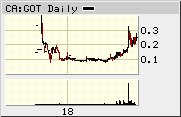 Goliath Resources Limited
Mr. Roger Rosmus
President and Chief Executive Officer Tel: +1-416-488-2887 x222
Check out the recent exploration news here...
https://goliathresourcesltd.com/wp-content/uploads/2018/07/GOT-news-release-2018-Surface-Exploration-Program-Commences-July_5_2018-1.pdf

Another area which could start gaining momentum again is the Pilbara in Western Australia.  Eric Sprott has been adding to his position Novo and I expect more bulk sampling news which could prove more continuity in the region.  I expect some news before this upcoming conference.  As you know I recently bought shares and have been highlighting Pacton Gold $PAC.V as our pick.  Novo may be bought out soon by Kirkland Lake with some development success which could put all the eyeballs on Pacton which Sprott just bought into when the company raised around $5.5 million and now control the 3rd largest position in the Pilbara Region.  


The chart is excellent looking to form another breakout above $.90.  Its been one of the best performers on the TSX Venture in 2018.  It could be just the beginning if Novo makes some positive developments going into this Sprott Conference in Vancouver.
For more information on Pacton Gold contact 1-(855)-584-0258 or info@pactongold.com and ask to speak to the Chairman Dominic Verdejo
Check out their recent news by clicking here...
http://pactongold.com/index.php/investors-en/news-releases/193-pacton-gold-to-acquire-highly-prospective-bellary-dome-project-in-pilbara-mining-region-where-multiple-nuggets-discovered

Finally I would like for you to look at an interview with Plateau Energy Metals $PLU.V $PLUUF.  You may remember it as Plateau Uranium but it has changed its name as they have made a huge lithium discovery which they have taken from discovery to a possible maiden resource any day now which could knock the socks off the lithium industry!  It could be big.  I wouldn't be surprised if this could be soon taken out by a Lithium Americas or possibly the Chinese once they have that maiden resource in hand as early as the next couple of weeks.  


Please listen to this interview as this is quite exciting times for $PLUUF!  

https://www.youtube.com/watch?v=ec_4CrUHXzE

Best wishes,

Jeb Handwerger

Disclosure: Disclosure: Author (Jeb Handwerger) owns shares in these sponsored companies and I want to sell them for a profit.  Sponsors are website advertisers so that means I have been compensated and have a conflict of interest to help boost awareness of this story. The content of this article is for information only. Readers fully understand and agree that nothing contained herein, written by Jeb Handwerger about any company, including but not limited to, commentary, opinions, views, assumptions, reported facts, calculations, etc. is to be considered implicit or explicit investment advice. Nothing contained herein is a recommendation or solicitation to buy or sell any security. Author is not responsible under any circumstances for investment actions taken by the reader. Author has never been, and is not currently, a registered or licensed financial advisor or broker/dealer, investment advisor, stockbroker, trader, money manager, compliance or legal officer, and does not perform market making activities. Author is not directly employed by any company, group, organization, party or person. The shares of these companies are highly speculative, not suitable for all investors. Readers understand and agree that investments in small cap stocks can result in a 100% loss of invested funds. It is assumed and agreed upon by readers that they will consult with their own licensed / registered financial advisors before making investment decisions. Readers understand and agree that they must conduct their own due diligence above and beyond reading this article. Author is not responsible for any perceived, or actual, errors including, but not limited to, commentary, opinions, views, assumptions, reported facts & financial calculations, or for the completeness of this article or future content. Author is not expected or required to subsequently follow or cover events & news, or write about any particular company or topic. Author is not an expert in any company, industry sector or investment topic.
_______________________________________________________
Sign up for my free newsletter by clicking here… 
Order premium service by clicking here…
Please see my disclaimer and full list of sponsor companies by clicking here…
To send feedback or to contact me click here…
Tell your friends! Please forward this article to a friend or share the link on Facebook, Twitter or Linkedin.
For informational purposes only.  This is not investment advice.  May contain forward looking statements.