No doubt over the long term commodities is the place to be as the world continues to develop and modernize.  Demand for traditional commodities such as copper, oil and iron ore will continue to grow.
However, strategic metals that are controlled by the Chinese such as rare earths, graphite, and tungsten could soar exponentially over the nearer term as supply shortfalls are quite risky in the near term.  Although these metals are not traded like precious metals, copper and oil their role is vital for the new technologically driven global economy.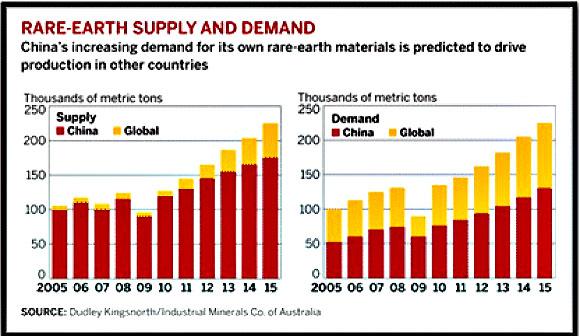 Everything from wind turbines to smart phones use these strategic metals.  Apple, Ford, GM, GE, Vestas and First Solar require these metals to produce their high end products.  We all use these critical metals daily, yet many of us have little to no investment exposure for these vital materials.  End users such as the companies mentioned above may look to invest in the junior miners to diversify away from China which uses its dominance of this sector as a negotiating tool.
China is boosting their own supply and stockpiling material.  This may have been the reason why the prices may have bottomed this past summer.  A big move could occur in the near term in these critical metals especially if China tightens exports and as demand increases in the West due to a expanding economy.
The junior mining sector is full of discount opportunities for investors who have courage and are contrarians. For several days I have been telling my readers to take a look at Tasman Metals (TAS) which has the best heavy rare earth deposit in Europe and arguably the world.
Tasman appears to be breaking above the three year downtrend on high volume.  Major accumulation may forecast a bullish golden crossover indicating that the downtrend may be coming to an end.
I own shares and am proud to have them as a sponsor on my website.
Tasman just acquired 100% interest in a portfolio of six tungsten projects possibly at the bottom of the market for a very low price.  All the projects have a lot of historical data and have great infrastructure.  This allows Tasman exposure to another strategic metal crucial for industry yet controlled by the Chinese.
The company also highlighted in the press release that they will continue to search out valuable opportunities during this difficult time for juniors.  They have the capital as they are backed by some major institutions including the Soros Fund.
Tungsten is a critical metal with many uses as it has the highest melting point and tensile strength of all the pure metals.  It is increasingly used in drilling, specialty steels and aerospace.  Tasman (TAS) is listed on the NYSE and receives research funding from the European Commission.  One of their largest shareholders, the Soros Fund, may see this as the European strategic metal solution.
One of the markets that could see the greatest growth over the next five years is in the permanent magnets. The reason for the increased demand is that more people are using laptops, tablets, led displays, smart-phones and hard drives in their cars, homes, schools and businesses. This growth is rapid in the emerging economies.  Tasman has the  rare earth metals that are found on the bottom of the periodic table and on the top of the government's list of the most critical metals needed for our latest technologies in our health, military and industrial complex.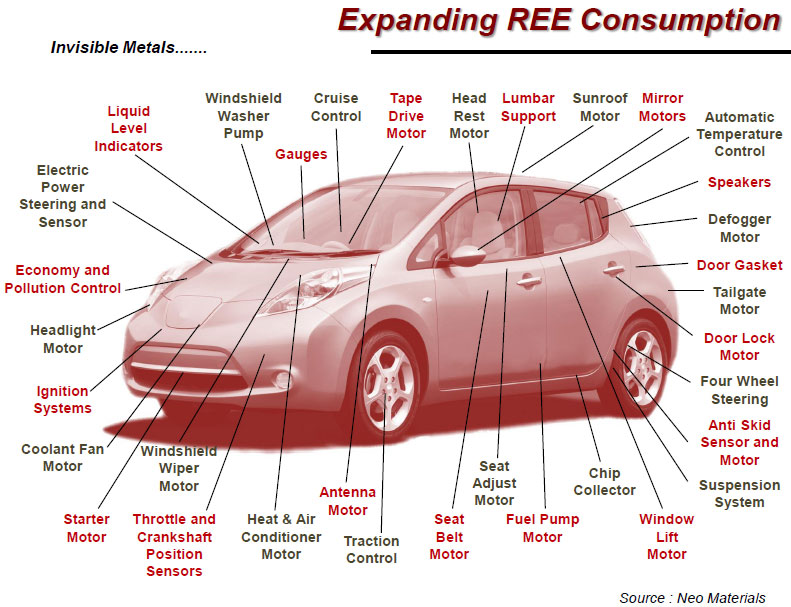 The automotive and wind energy sector is rebounding impressively in 2013 and these end-users will need a safe, secure and long term supply of these metals with amazing chemical characteristics. Most of the rare earths and permanent magnets are coming from China who wants to monopolize the manufacturing and control of rare earth oxides and the magnet making.
China may be doing whatever it can to ignore the WTO ruling by restricting rare earth exports and prevent smuggling from non- licensed producers. Having only one supplier for such strategic metals is very dangerous for the Western economies.
Now that prices have come back down from historic highs set in 2011, end-users may look to diversify away from China and make strategic investments in potential mines which could provide supply for a generation. The EU and the U.S. government is on the record that they are supporting the mining and domestic production of rare earths critical for the defense and clean energy industries.
Our favorite heavy rare earth asset that we think is on the verge of a major move is Tasman Metals (TAS). In addition to great shareholders such as the Soros Fund which owns around 1.5 million shares, Tasman has a great management team with an incredible asset that has the critical heavy rare earths and is the 4th largest heavy rare earth asset in the world with one of the highest percentages of heavy rare earths. Norra Karr has over a forty year mine life and remains open at depth.
The project has excellent infrastructure with power, roads and rail within 20 km. Sweden is very supportive of mining and is one of the most supportive jurisdictions in the world. Sweden just granted a mining lease until 2016 to Tasman.
This asset could be essential to some of the large end users in Germany such as Mercedes Benz, Volkswagon and/or Siemens. Don't be surprised if Danish wind turbine maker Vestas whose stock is up exponentially in 2013 take interest in Tasman's project as rare earths may be just beginning their rebound.
Listen to my recent discussion with Mark Saxon CEO of Tasman Metals (TAS) as we discuss the importance of Tasman's heavy rare earth resource.

For More Information on Tasman Metals (TAS) Contact: 
Jim Powell, V.P. - Corporate Development
+ 1 (647) 478 8952 Email: jpowell@tasmanmetals.com
Disclosure: I own Tasman and the company is a sponsor on website.
___________________________________________________________________________
Sign up for my free newsletter by clicking here… 
Sign up for my premium service to see new interviews and reports by clicking here…
Please see my disclaimer and full list of sponsor companies by clicking here…
Accredited investors looking for relevant news click here…
Please forward this article to a friend.  To send feedback or to contact me click here...
Listen to other interviews with movers and shakers in the mining industry below or by clicking here...