For many years, I have asked my readers to learn more about our national security being totally reliant on foreign imports of our must crucial minerals and metals needed for our newest technologies.  At times I even suggested to contact your local elected officials and make them aware of dire importance of a domestic secure supply of these most critical elements.  I have been warning for close to a decade about a coming crisis among modern industrial nations posed by China's draconian and monopolistic maneuvers in the implementation of a rare earth quota system.  See the full article on Seeking Alpha written more than seven years ago entitled, "The Fast Growing Rare Earth Crisis In The United States".
Fast forward eight years after little support from Obama, the rare earth industry  (REMX) as well as other critical battery and clean energy metals such as lithium, cobalt, graphite ...etc could receive an important boost.  Late last year under the new Trump Administration an executive order was signed ordering federal agencies to end this monopoly of critical metals by China.  Lithium Ion Battery materials was identified as crucial for America's economic future to have a secure domestic supply.  See the President's Order by clicking here...
Finally, our readers are being heard by the highest level of US Government.   This could be huge for our US domestic holdings in critical minerals.  As my readers are well aware we put top US domestic assets on top of our portfolio list.
Despite this remarkable move by President Trump to end this Chinese domination of our most important minerals, most of our junior mining stocks in rare earths, lithium, uranium, graphite, nickel and cobalt are still completely ignored.
Most investors just are passive and want the trillion dollar tech stocks without realizing none of their little gadgets will work without these materials.  Sure we can try to substitute with other metals but your phone may look like this.
This pullback and basing period may be nearing completion soon in our junior miners especially in lithium, cobalt, graphite and rare earths.  I expect there to be some significant developments this second half with Tesla possibly turning a profit and reaching production levels for its Model 3.
If you are looking for rare earths in USA the only one that was available on the major US exchanges was Molycorp who owned the Mountain Pass Property.  They went under and sold it the Chinese.  There is no major cobalt producer in the USA.  There are a few US uranium names on US exchange like  UR Energy $URG Uranium Energy $UEC and Energy Fuelss $UUUU that could benefit from Trump's executive order.
For lithium there is just one mine in production in North America operated by Albemarle $ALB in Nevada which was the first lithium brine mine in the world.  The US controlled these metal industries for many decades but now just rely on imports from the Lithium Triangle Chile, Argentina and Bolivia.
However, over the past few years lithium prices are soaring, trade concerns are elevated which increases the chances of once again developing new projects right here in the USA.  Right now, there are a few companies exploring for lithium but there is one that is developing a new extraction technology that can recover lithium as a byproduct of current chemical brine operations that are already permitted.
Standard Lithium $SLL.V $STLHF just put out data about the lithium grades of its brines in Arkansas that show excellent grades.  They are almost done with a maiden resource report which could be published in the near term.  The brines come from preexisting oil and gas wells.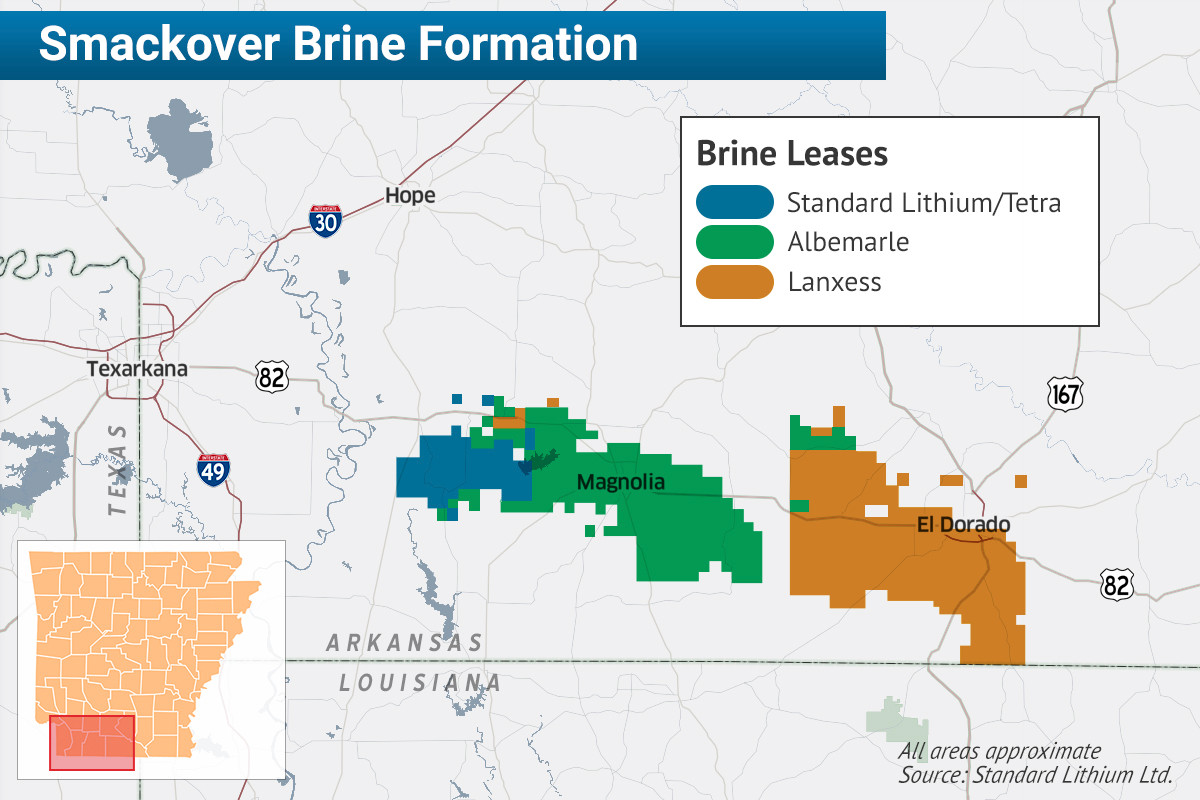 Robert Mintak, CEO of Standard Lithium stated "With our key agreements and partnerships in place, a maiden resource report and a demonstration plant on the horizon, we believe the Company's southern Arkansas projects are set to play a leading role in the next wave of lithium producers."
"Standard Lithium Reports Up To 461 Mg/L LI From Brines At Arkansas Project"
Southern Arkansas has one of the world's largest brine resources thats been used by companies such as Albemarle to produce bromine. That brine could also possibly produce lithium.  Standard Lithium's approach is much different than the others who want to build up a new mine from scratch.  Here these assets have existing infrastructure and permitting  which costs a lot of these new mines years to permit and finance.  Standard Lithium has strong backers and raised over $20 million earlier this year to support this development.  Despite all this progress, the stock has been trading under a $1 despite the big money being given at $2.10.  So the stock is on sale but may not be for long as they start publishing more news about resources and pilot plant.  I expect a short term rally to at least the 200 Day Moving Average at $1.75.  Look for a weekly close above its 50 day moving average around $1.10.
Listen to a recent interview with Andy Robinson and Robert Mintak by clicking here...
Best wishes,
Jeb
Disclosure: Author (Jeb Handwerger) owns shares and I want to sell them for a profit.  Sponsors are website advertisers so that means I have been compensated and have a conflict of interest to help boost awareness of this story. The content of this article is for information only. Readers fully understand and agree that nothing contained herein, written by Jeb Handwerger about any company, including but not limited to, commentary, opinions, views, assumptions, reported facts, calculations, etc. is to be considered implicit or explicit investment advice. Nothing contained herein is a recommendation or solicitation to buy or sell any security. Author is not responsible under any circumstances for investment actions taken by the reader. Author has never been, and is not currently, a registered or licensed financial advisor or broker/dealer, investment advisor, stockbroker, trader, money manager, compliance or legal officer, and does not perform market making activities. Author is not directly employed by any company, group, organization, party or person. The shares of these companies are highly speculative, not suitable for all investors. Readers understand and agree that investments in small cap stocks can result in a 100% loss of invested funds. It is assumed and agreed upon by readers that they will consult with their own licensed / registered financial advisors before making investment decisions. Readers understand and agree that they must conduct their own due diligence above and beyond reading this article. Author is not responsible for any perceived, or actual, errors including, but not limited to, commentary, opinions, views, assumptions, reported facts & financial calculations, or for the completeness of this article or future content. Author is not expected or required to subsequently follow or cover events & news, or write about any particular company or topic. Author is not an expert in any company, industry sector or investment topic.