I started investing and studying the junior mining business when I was still in high school.  I graduated in the class of 1998.  I missed BreX and saw all the stocks trading at literally a fraction of what they were worth years before.  I saw a contrarian opportunity as my friends all were in the dot com bubble at that time.
Living in the suburbs of NYC in a little town of Rye, NY, not far from Wall St. I took an early interest in stocks and finance.  I started going to conferences in NYC at the Marriot Marquis where I met a lot of the legends of today when they were starting out and the sector was completely out of favor.
I went on to study engineering and mathematics but the majority of my time in college was spent investing and communicating with the junior miners.  Many of them went on to become majors in the next 10 year bull cycle.
It was during the Great Financial Crisis in 2008 that I thought of creating a blog and network focused on precious metals and junior mining.  I gave up my secure job to focus on the junior miners full time.
The whole stock market was in the middle of a crash and the gains made since the turn of the millennium were literally wiped out in a couple of weeks.  I saw a great opportunity to once again load up on top junior miners trading at literally pennies on the dollar.  I believed that the Federal Reserve Bank would intervene by devaluing the dollar.  I was right for a little while but then gold and silver peaked out in 2011 while the stock market continued on a record run up until this present day.
This divergence between stocks and commodities has continued now for 8 years wiping out gains made in the miners over the past 20 years.  For the past 8 years I have seen some of the top minds in our mining sector retire, die or move into more stable areas like government work.  The S&P500 has gone straight up while our mining sector has gone the other direction.
Now the TSX Venture is testing all time lows.  We are below the credit crisis 2008 bottom despite gold moving up to $1500 and new record highs in Canada.  Its been painful for those who have tried for so many years.  However, if you are new to this space you may be able to catch the next major upswing like I did 20 years ago.  Learn from my mistakes and when technical targets are hit make sure to sell and diversify.  Selling is much harder than buying for some like myself.
Even though we are probing 10 year lows on the TSX Venture there are some signs that a rally in the juniors could be coming.  Gold has broken out into new highs after basing for many years.  Billionaires like Eric Sprott are starting to buy up juniors.  Prices are so low that any new interest could see the index springboard which it has done in the past if you are old enough to remember.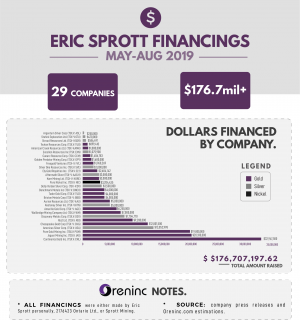 Look at the chart above from OrenInc showing all the deals from May - August Eric Sprott financed.  Eric has gray hair and he does not have to take all this risk as a billionaire but does it because he really believes.  His actions give me hope to as someone who has taken a ride up and a ride down the elevator of the TSX Venture.
Gold has been correcting since September 1st when we sent a note out predicting a consolidation before next push through old time highs of $1900. I thought the pullback ended after Fed Cut but we may need to wait longer now as bullish sentiment was just a little too high. Gold appears to have again failed at 50 DMA which means we have to consolidate for longer. There was too much $10k gold talk on TV instead we may pullback to test support at $1400 before next move to $1700.
The S&P 500 continues to hit new highs and the US Dollar has continued to find supporters and in a strong uptrend.
Lithium stocks like Albemarle and the lithium etf $LIT looks like the 2 year downtrend could be concluding.  Albemarle was $140 and not its bouncing off lows.  Also Tesla appears to be rallying as electric vehicle makers are starting to finally see a pickup. 
This week my deepest condolences goes out to the family and loved ones of the 37 miners killed and 60 wounded at the attack on Semafo in Burkina Faso.  Life is so precious and we must all remember in the financial game that health and time with our loved one is so much greater than wealth or the current value of our portfolio.  We must not forget all the miners who have died throughout the years to help our quality of life and so that we can have the things we like.
There was some significant news that came out after the New Orleans Gold show where the top juniors were marketing including drill results from Nevada from Barrian and an impressive economic study for Skeena at Eskay Creek whose booths were packed at the show I attended.  Another junior from Nevada, Blackrock Gold was getting tons of attention in New Orleans as they got a famous miner as a Chairman Bill Howald from Placer Dome.  Alianza's booth at New Orleans was packed as investors wanted to see the rocks from the new discovery in Keno Hill.  Triumph Gold is hitting some of the best porphyry gold results in Yukon and they are partnered with Newmont Goldcorp.  Outcrop Gold is going to be drilling in a core area of the colonial era high-grade silver mines in Colombia where the Spanish had grades of 4,300 g Ag/t from the smelter returns.  So much more news and developments I am discovering...stay tuned!
The next big event is next week in Zurich.  I hope to see the juniors get some attention but tax loss selling season is near and there has been non stop selling on the Venture since the beginning of 2018.  The Venture could test last years lows or even worse see a final capitulation waterfall decline to break through 2015 lows.  We may need to see one final wash out before the TSX Venture can make a powerful comeback.
As I conclude, just remember the following... time is greater than money.  Enjoy this weekend with the people you love and remember the best things in life are free.  Remember we can get back money lost, but can't get back time.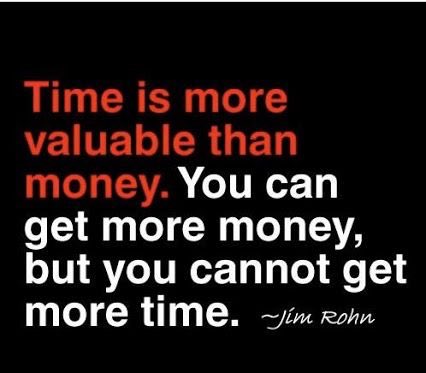 Assume Author (Jeb Handwerger) owns shares and that I want to sell them for a profit.  Barrian and Alianza are website sponsors so that means I have a conflict of interest to help boost awareness of story. The content of this article is for information only. Readers fully understand and agree that nothing contained herein, written by Jeb Handwerger about any company, including but not limited to, commentary, opinions, views, assumptions, reported facts, calculations, etc. is to be considered implicit or explicit investment advice. Nothing contained herein is a recommendation or solicitation to buy or sell any security. Author is not responsible under any circumstances for investment actions taken by the reader. Author has never been, and is not currently, a registered or licensed financial advisor or broker/dealer, investment advisor, stockbroker, trader, money manager, compliance or legal officer, and does not perform market making activities. Author is not directly employed by any company, group, organization, party or person. The shares of these companies are highly speculative, not suitable for all investors. Readers understand and agree that investments in small cap stocks can result in a 100% loss of invested funds. It is assumed and agreed upon by readers that they will consult with their own licensed / registered financial advisors before making investment decisions. Readers understand and agree that they must conduct their own due diligence above and beyond reading this article. Author is not responsible for any perceived, or actual, errors including, but not limited to, commentary, opinions, views, assumptions, reported facts & financial calculations, or for the completeness of this article or future content. Author is not expected or required to subsequently follow or cover events & news, or write about any particular company or topic. Author is not an expert in any company, industry sector or investment topic.