Its been a great week for the beaten up gold investors as capital sought safety as a market panic started.  In reality, the stock market was way overbought and needed at least a shakeout which it has done pulling back to the rising 200 DMA. For months I have been early seeing declining momentum and insider selling in the Large Caps.  Despite that the share price of large cap equities continued into nosebleed territory.  I was taught years ago that the smart investors sell into rising markets and buy into declining markets. That's how the intelligent investors get in early.  You can witness this phenomenon possibly through the divergence between momentum and price as we see in chart below.  The trend is a friend until its broken on huge volume.  During this week's market selloff gold remained the true safe haven not crypto as was promoted by the young 20 year old know nothings.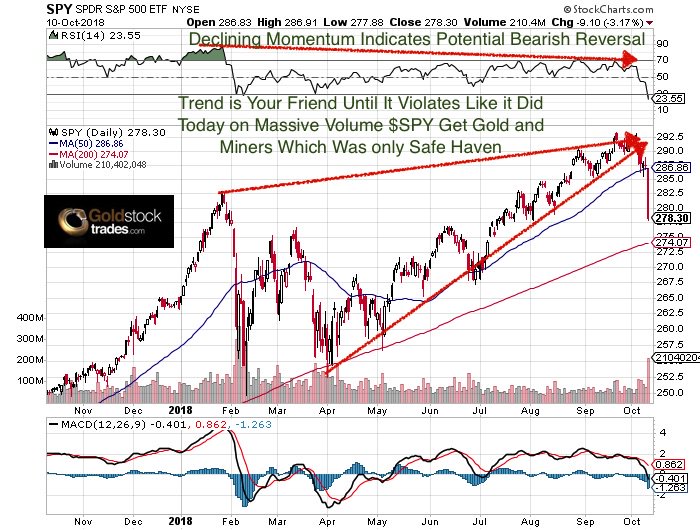 If that moving average does not hold then the 7 year bull market in the S&P 500 could be ending.  This fear has helped the beaten down Junior Gold Mines ETF (GDXJ) make a reverse head and shoulders breakout crossing above the 50 DMA and closing above 3 month downtrend. Since the selloff in mid August Momentum has been increasing which usually happens before a classical technical breakout.  Smart money buys when prices are declining and before a turning point you can see momentum increasing.  When you take inflation into account gold is the cheapest its ever been.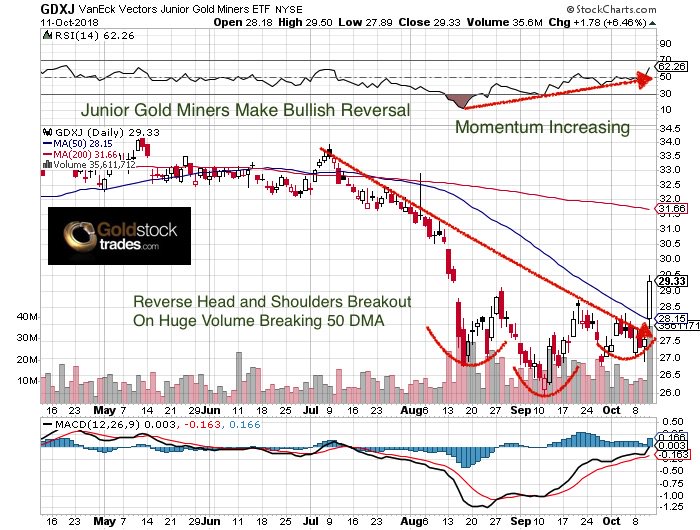 What is causing all this ruckus in the markets?  All eyes are on US interest rates which have been dangerously rising to levels not seen since before the 2008 credit crisis.  The Chinese may be already selling bonds to fight against Trump Trade Wars.  Rising interest rates are already hitting transportation stocks especially auto makers.  Soon I expect housing and real estate to get hit and then possibly the banks.  Avoid margin debt and adjustable rate loans in this financial environment.  
During this brutal bear market in gold and silver as investors chased fake and ridiculous fads, I have maintained my faith in positioning in high quality and well managed junior miners with the ability to survive.  Don't let these manipulated and crazy markets shake you out especially when the fundamentals for gold have never been better. There is about to possibly start a massive short covering in gold if we can possibly hit $1250.  This recent summer capitulation combined with record short position on gold could cause a dramatic move once the tides start reversing which may have started this week.
Any more panics or black swan events could cause a possible $100 move in gold.  Recently the emerging markets especially in South America, Asia and Mid East are struggling with crashing currencies.  JP Morgan CEO Dimon says rising interest rates, declining emerging markets and geopolitical flareups could possible derail the economy.
For months I warned about rising rates and possible margin calls from investors overextended.  The USA has a major student loan crisis that could be even bigger that the housing bust.
How am I focusing my holdings?  I'm looking for new gold and silver discoveries that could gain recognition from major investors.  Exploration has been ignored for years and that is where I see greatest opportunity.
1)I'm interested in the Pilbara Gold Rush in Australia and have been following Pacton Gold $PAC.V $PACXF which is still relatively unknown but could be on a fast track to a discovery.  They released news this week which you should read by clicking here... Exploration is underway on two properties.  They just acquired more land around Novo $NVO.V and with just a $34 million market cap they have become one of the largest land holders in the Pilbara.
2)Check out Genesis Metals $GIS.V $GGISF It Breaks Out of Yearlong Slump on Volume in Early August after new geological work identified previously unrecognized higher grade zones in Quebec.  This is the first time after drilling for over 29 years that a geological model has been developed.  Resource could be published soon.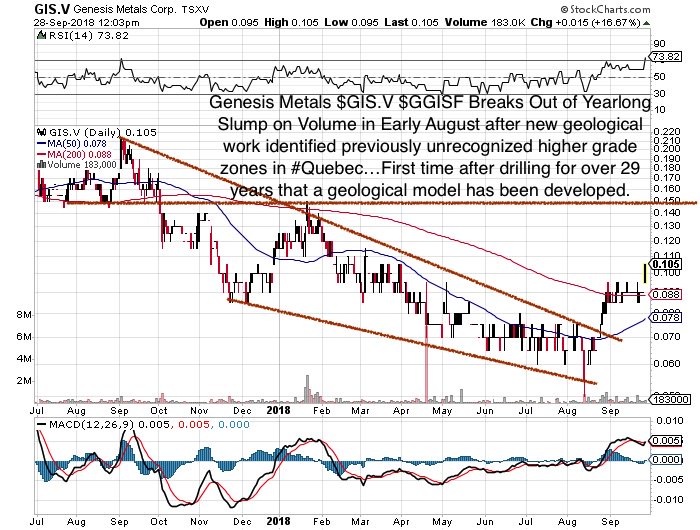 3)Check out Treasury Metals Inc. $tml.to $tsrmf which I bought some this week which is possibly the most undervalued gold developer in Canada right in Ontario between Goldcorp's Red Lake and New Gold's Rainy River.  Cash costs could be the lowest of advanced Canadian Developers! Could move higher as gold price improves.  Takeout target?
Sign up for my free newsletter by clicking here… 
Tell your friends! Please forward this article to a friend or share the link on Facebook, Twitter or Linkedin.
For informational purposes only.  This is not investment advice.  May contain forward looking statements.
Disclosure: Author (Jeb Handwerger) owns shares and I want to sell them for a profit.  Sponsors are website advertisers so that means I have been compensated and have a conflict of interest to help boost awareness of this story. The content of this article is for information only. Readers fully understand and agree that nothing contained herein, written by Jeb Handwerger about any company, including but not limited to, commentary, opinions, views, assumptions, reported facts, calculations, etc. is to be considered implicit or explicit investment advice. Nothing contained herein is a recommendation or solicitation to buy or sell any security. Author is not responsible under any circumstances for investment actions taken by the reader. Author has never been, and is not currently, a registered or licensed financial advisor or broker/dealer, investment advisor, stockbroker, trader, money manager, compliance or legal officer, and does not perform market making activities. Author is not directly employed by any company, group, organization, party or person. The shares of these companies are highly speculative, not suitable for all investors. Readers understand and agree that investments in small cap stocks can result in a 100% loss of invested funds. It is assumed and agreed upon by readers that they will consult with their own licensed / registered financial advisors before making investment decisions. Readers understand and agree that they must conduct their own due diligence above and beyond reading this article. Author is not responsible for any perceived, or actual, errors including, but not limited to, commentary, opinions, views, assumptions, reported facts & financial calculations, or for the completeness of this article or future content. Author is not expected or required to subsequently follow or cover events & news, or write about any particular company or topic. Author is not an expert in any company, industry sector or investment topic.