Here we go again as this time of year brings a lot of hype to the mining  industry as tens of thousands of people from all over the world come to Toronto to present their goods and services at the PDAC convention.  Its not uncommon to pay $300+ for a hotel room to hang around the Toronto Convention Center and go to a bunch of parties.
However, the more experienced junior mining investors are aware of what has been termed by many the "PDAC curse".  The PDAC Curse is becoming more widely known when there has been more selling coming out of the conference than buying.  However, things may have changed these past couple of years and we are seeing some bullish reversals coming out of PDAC.
This past year we have seen the rise of cryptocurrencies and cannabis which has taken away a lot of speculative capital from the junior mining industry.  However, those areas are beginning to falter.  There is very little speculative capital that has come into junior mining except for a few stories that are being promoted as the next Voisey Bay in BC or the next Witwatersrand in Australia.  Some capital has flowed into lithium and cobalt but that appears to have recently slowed down due to a bearish Morgan Stanley report which has sparked a quite healthy correction before the next leg higher.  While the pullback is far from enjoyable its healthy to have occasional shakeouts in the long upward trend of the electrification of the automobile and allows new investors some discount buys.  Base metals most notably zinc and copper are looking strong as well as PGM's where palladium has had an incredible move in 2017.
This PDAC conference is taking place when there has been increased volatility in the stock market.  The general markets have recently cratered below the 50 DMA increasing the fear of a longer term pullback which we have not seen in many years.  We are also seeing rising interest rates and inflation for the first time in many years.  There are some stories gaining some excitement and momentum as they are actively drilling.  I think we may also see some delayed moves as I know many of our featured companies are meeting with much bigger players to negotiate possible acquisitions or mergers.
Speculators could be returning to the market but there does not appear to be a lot of high quality private placements or bought deals in the mining sectors.  This indicates to me that the large money has not yet returned and there is a lot of cash on the sidelines.  We need to see some high grade discoveries to bring back investors to the junior mining market.
The markets are spooked by the Trump effect in the US and the reemergence of trade wars.  The mainstream media warns about the Smoot Hawley Act before the Depression and how tariffs will lead us into the next great depression.  The reality is that America has had its mining and manufacturing industry destroyed by horrible trade deals.  The US imports 100% from abroad some of its most strategic metals.  Now this imbalance may be reversing under Trump and America may once again start mining and making goods again especially with a cheap US dollar.
Gold appears to be on the verge of a new 5 year high while the US dollar continues its collapse.  Silver appears to be poised to make even a bigger move once gold breaks out as the 80-1 gold to silver ratio is unheard of and a reversion to the historical mean could mean big gains for silver bugs.
There may be some post PDAC selling but the markets are way overdue for some new discoveries and developments in the juniors especially in the USA which I am following.  Check out some of these recent news items and links to their recent press releases.
1)This little junior silver miner in the USA just released news this week that they hit over 15 ounces/ton silver.  That's ounces per ton not grams.  It is some of the highest grade results in the US I have ever seen...I think they may draw some interest from a larger silver producer at the conference as these grades are exceptional.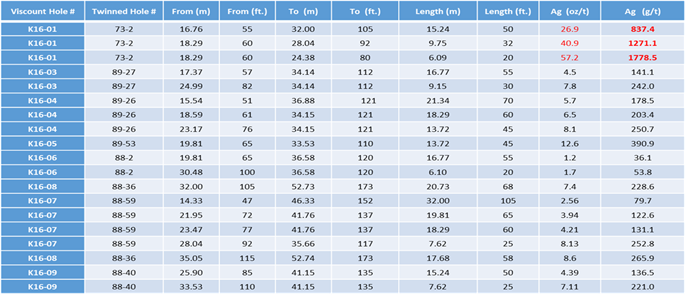 2)This junior rare earth developer in Alaska has set a production start date for 2020 for a rare earth element separation plant.  We import all these rare earths from China and this could be exciting as this company could compete against some giants with an exciting opportunity to permit and construct the first large scale REE separation facility right here in the USA.
3)I have followed a story which I recently bought as they are starting to drill in the exciting Homestake Gold Belt in the Black Hills in South Dakota.  This area was home to the famous Homestake mine which built the Hearst Family fortune and was one of the biggest and richest gold finds ever.  This little junior which no one yet knows about now owns the largest land position in the belt and possibly the largest database for the district.  A 12 hole program has recently started.  The first drill hole is spotted to intersect structure drilled by Getty Oil in 1982.  Please note management has spent 5 years collecting data for the district and they believe they could be onto another great discovery in the USA.  They are drilling 26 km south of the Homestake Mine which produced over 40 million ounces of gold at close to 11 g/t.  Some major companies have explored this area including Getty, Homestake, Newmont, Cominco and Noranda but the last serious drill program was not done since 1997.
Disclosure: I own shares in these linked companies and they are website sponsors.  I have a conflict of interest as I want to sell these shares for a profit.  Buyer beware and do your own due diligence.
_______________________________________________________
Sign up for my free newsletter by clicking here… 
Order premium service by clicking here…
Please see my disclaimer and full list of sponsor companies by clicking here…
To send feedback or to contact me click here…
Tell your friends! Please forward this article to a friend or share the link on Facebook, Twitter or Linkedin.
For informational purposes only.  This is not investment advice.  May contain forward looking statements.