At the end of 2015 the Gold Mining Sector Index defined by the XAU was at its lowest point in recorded history.  It may have possibly been the end of the worst bear market wipeout in junior mining history.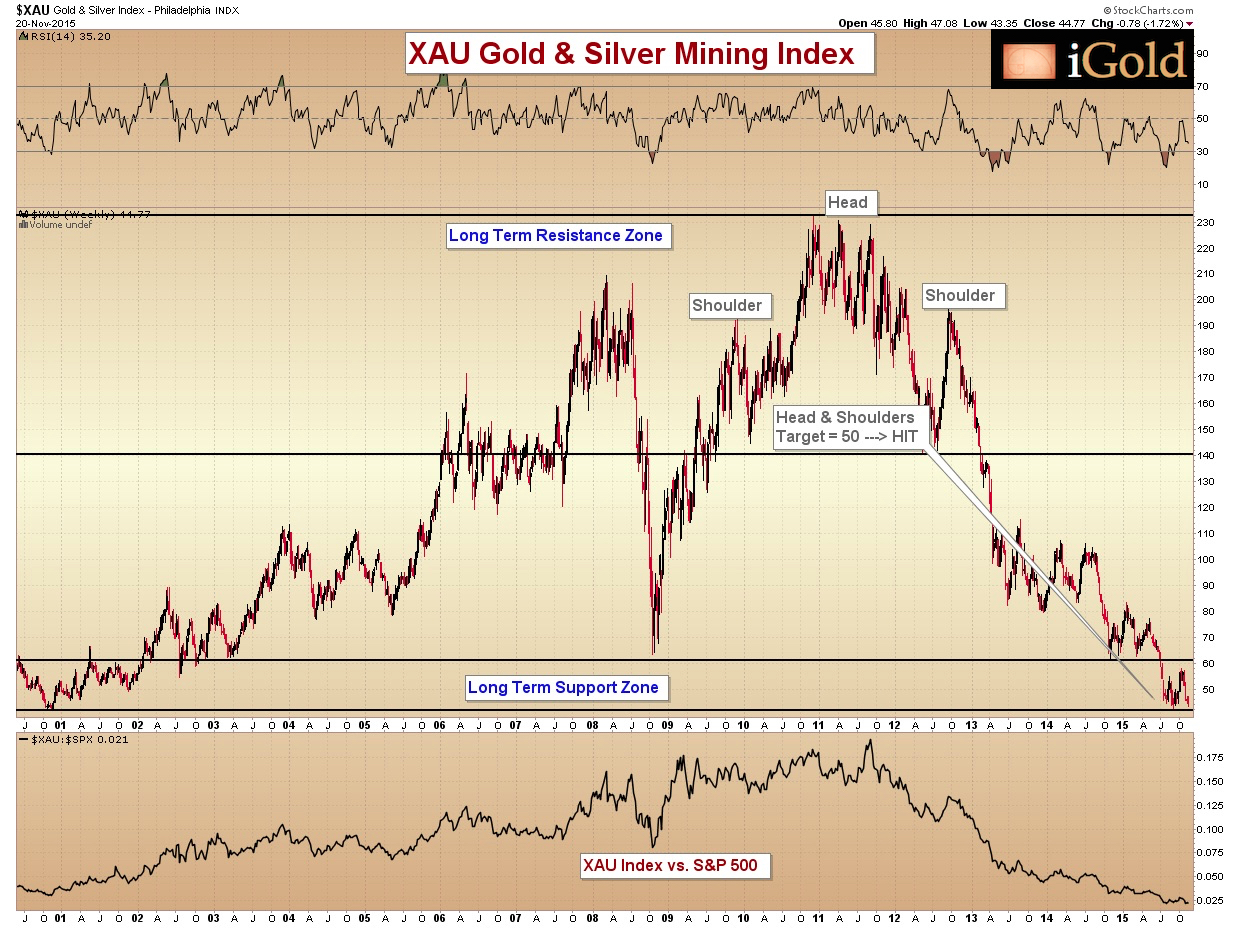 Since the peak in 2011 the Canadian TSX Venture has been a broken market with most investors losing mostly everything.  However, since the bottom of 2015, the Canadian markets have seen a revival.  The revival in the TSX Venture has been led by some nascent industries which were ignored but are now coming into favor such as the emergence of the electric vehicle luxury market, the legalization of cannabis and more recently blockchain technology.
The TSX Venture which rebounded in early 2016 has been basing for nearly 18 months and may finally be breaking out higher at 850.  This year precious, base metals and oil outperformed as the US dollar sank 10%.  Inflation may be starting to rear its ugly head.
Why is a Venture Breakout so important to us?  In a bear market it takes a genius to find the winners that can be taken out at premiums, in a bull market that is in an uptrend even the crappy stocks make big moves and can sometimes even make bigger moves than the higher quality ones.
The junior miners could be on the verge of a second leg higher which could be even a stronger move than early 2016.  Remember gold and silver are still relatively cheap and have not moved yet.
Many silver producers are still struggling and tax loss selling is always around at year end that keeps prices low.  Tax loss selling is when investors sell their losers to offset some of their winners.  Thats why these stocks get cheap in December and bounce in January.
Looking at the TSX Venture Chart above it appears the Venture peaked in 2011 and bottomed in 2016.  Since the summer of 2016 the Venture has consolidated that first move for over 18 months.  It appears that we could be starting the next leg higher with this break of 850.  We are also moving into a very favorable time period where rallies occur between January and March.
If you want to take advantage of a new year tax loss bounce you should buy a handful of really quality juniors which are still cheap.  But remember these are small companies which are risky and I have a position in them and I assist them with advertising as they are a website sponsor so I have a conflict of interest as I have received some compensation and hope the share price appreciates.
1)One of my favorites is Treasury Metals $TML.TO $TSRMF who just closed a $4.25 million financing to hopefully speed up drilling to find possibly more high grade gold shoots and build this deposit into a much bigger resource.  It is important to note that Treasury just signed a MOU with the Metis Nation in Ontario.  Its critical to have local support from First Nations when going through the permitting process.  This is an advanced asset which could start the feasibility study in 2018.  This could move quickly into production but the upside exploration potential with two drill rigs turning is quite exciting as well.  The new CEO was quite successful in turning Kirkland Lake around and creating value.  I expect he may be able to do a lot in the coming quarters ahead.  Listen to my recent interview with the CEO Chris Stewart by clicking here...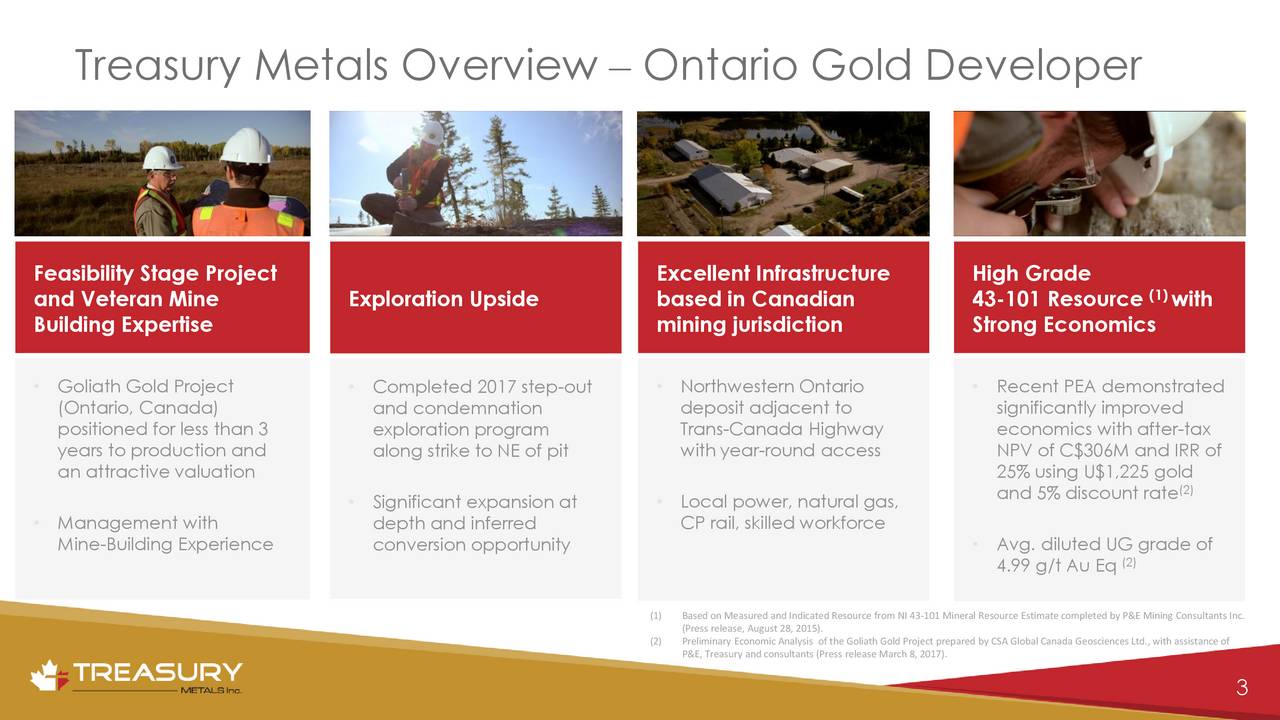 2)On another note, I know some of my subscribers are concerned that our next US gold producer Northern Vertex $NEE.V $NHVCF has not announced production yet in Q4 2017 as we expected.  The company just released an update that construction is progressing even during the holidays.  They are going through the transition from construction to commissioning which we expect could happen in next two or three weeks.  During the construction phase, company and contractor personnel peaked at 188 persons on site.  Plant commissioning is underway with an effective plant startup date in mid-January. Click the following link to view progress at the Moss Mine:  https://northernvertex.com/projects/photo-gallery/
3)Finally, its important see this interview from only a few weeks ago on this new top lithium discovery that Plateau Uranium $PLU.V $PLUUF has discovered.  Finally, investors other than myself are waking up to this discovery which contains very high grades of Lithium and is open at depth.  This could become an extremely large lithium play  in 2018 and could also benefit from a rising uranium price as there is already 124 million pounds of uranium on the property.  With this new lithium discovery the cash costs of the uranium could be driven down to one of the lowest in the industry.
Have a happy new year,
Jeb Handwerger
Disclosure: I own securities in these companies.  They are website sponsors which means I have a conflict of interest and am biased as I would benefit if the share prices goes up in value. Please do your own due diligence as I am not a financial advisor. This contains forward looking statements which may not come to fruition as mining is risky and investors can lose all their money. I may buy or sell shares at any time without notice. This is based on public information and management conversations but there may be inaccuracies or errors so make sure you do your own due diligence. This should be considered an advertisement and not financial advice.
_______________________________________________________
Sign up for my free newsletter by clicking here… 
Order premium service by clicking here…
Please see my disclaimer and full list of sponsor companies by clicking here…
To send feedback or to contact me click here…
Tell your friends! Please forward this article to a friend or share the link on Facebook, Twitter or Linkedin.
For informational purposes only.  This is not investment advice.  May contain forward looking statements.