It's exciting times for our subscribers as some of our top featured companies are breaking out higher leading the indices both on the US and Canadian side.  The GDXJ is breaking above the 200 DMA and the TSX Venture index which tracks small cap junior miners may be on the verge of a big breakout. Some of our high quality gold juniors are beginning to move parabolic.  So I am quite content that we were patient and held onto our positions especially in precious metals and energy that are now breaking out of classic technical patterns that could lead to outsized parabolic moves.
1)First off one of our new holdings and sponsors which I featured last week has broken out higher on huge volume.  It is an exciting emerging gold producer right here in the US who is constructing a new gold mine which I believe has tons of upside potential.  They are drilling away.  If they make a high grade hit this season I believe they will be a takeout target as there are very few gold mines that can produce below $700 per ounce of gold.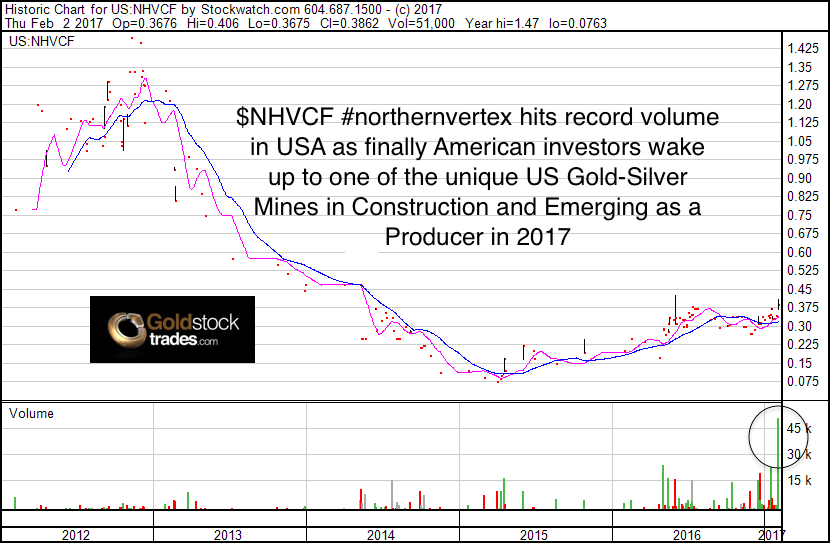 2)I have been highlighting a near term lithium and cobalt producer for weeks now and highlighting a potential breakout for this company.  The one thing many investors were waiting on is management.  This recently changed over the past few weeks as they announced the appointment of the head of Research of giant lithium producer SQM to its advisory board and a known mine builder, the former CEO of True Gold who brought the company to become fully financed and permitted to construct a gold mine.  Now that they got these two additions I believe the company will be quickly rerated higher and breakout.
3)For months now I featured a small Canadian company with big time scientists and entrepreneurs working on nanostructured materials for batteries which could drive down costs for lithium-ion battery makers.  This is a huge $2 billion plus market that ranges from consumer electronics, electric vehicles and power storage.  The company is filing new patents and advancing the pilot plant.  Once it is completed it may gain further recognition especially from Asian battery makers.  The stock is currently breaking out of a cup and handle.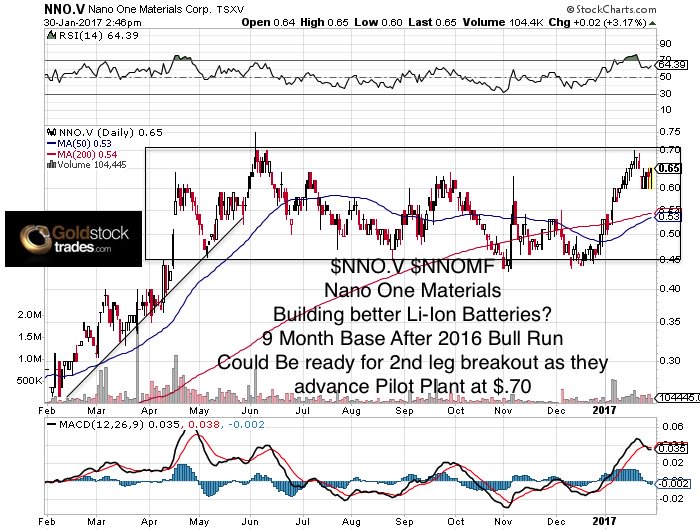 4)Last few months I have highlighted a small oil company with top notch shareholders.  They recently raised a bunch of money and appear to have attracted even bigger names to the company according to some online websites.  Its a growing company that has increased production over 180% this year from 2015.  This year could even be bigger and greater especially if oil prices stabilize and move higher.  The stock has also recently made a huge breakout on great volume from a classic cup and handle.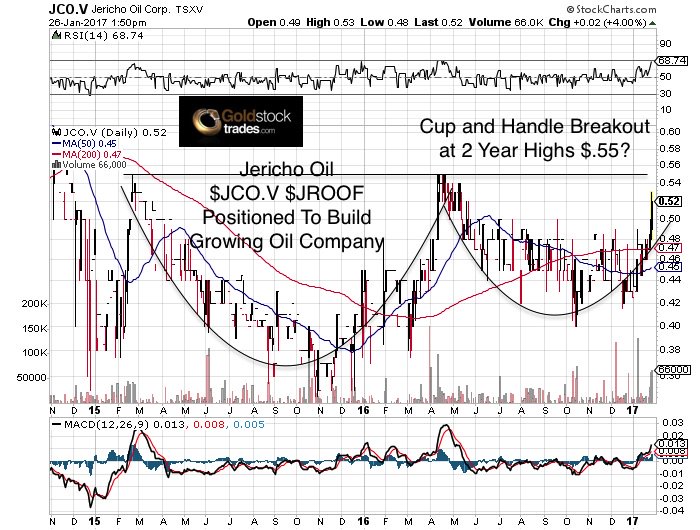 Disclosure: I own securities in these companies and they are website sponsors. This should be considered a conflict of interest as I could benefit from price/volume increase and have been compensated. This is not financial advice and contains forward looking statements which may not come to fruition.  Buyer Beware! See full disclaimer and current advertising rates by clicking on the following link:
http://goldstocktrades.com/blog/
Section 17(b) provides that:
"It shall be unlawful for any person, by the use of any means or
instruments of transportation or communication in interstate commerce or by the use of the mails, to publish, give publicity to, or circulate any
notice, circular, advertisement, newspaper, article, letter, investment
service, or communication, which, though not purporting to offer a security
for sale, describes such security for a consideration received or to be
received, directly or indirectly, from an issuer, underwriter, or dealer,
without fully disclosing the receipt, whether past or prospective, of such
consideration and the amount thereof."
_______________________________________________________
Sign up for my free newsletter by clicking here… 
Order premium service by clicking here…
Please see my disclaimer and full list of sponsor companies by clicking here…
To send feedback or to contact me click here…
Tell your friends! Please forward this article to a friend or share the link on Facebook, Twitter or Linkedin.
For informational purposes only.  This is not investment advice.  May contain forward looking statements.