News out of Saudi Arabia today and tensions in the strait of Hormuz for months has been signaling to astute investors be careful of a geopolitical black swan coming from the Middle East.  This could be a game changing event in the Middle East today as oil and precious metals soar on today's news that there was a "Drone Attack on Saudi Oil Field".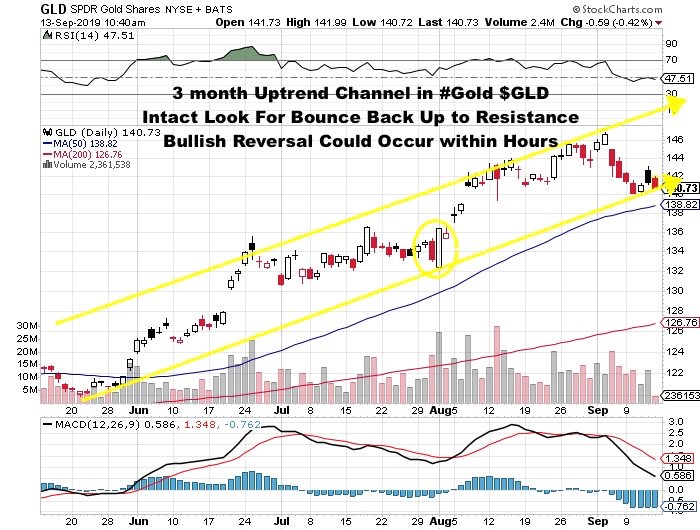 For weeks now I have been noticing with lots of small cap oil stocks despite hitting new lows there was a big pickup in insider buying.  Now many of these junior oil stocks could run higher.  I'm also thinking the entire energy complex including our beaten down battery metals stocks could start bouncing higher too as oil prices spike higher.  Notice the recent move of this little cobalt stock above the 200 DMA last Friday.
The fighting between the Shiites and Sunnis is centuries old and won't be solved in the next few weeks, months or years and probably not in our lifetimes.  The USA economy has already been under pressure and rising oil prices could be another big blow to a US manufacturing industry staggering into a possible economic recession.
The Fed meets this week and will probably lower rates again to keep the real estate and stock market propped up despite a declining yield curve.  Remember the Fed has put possibly billions into pushing up markets to a historic overbought condition through manipulating rates to record low levels yet these low rates haven't stimulated factory and wage growth stats show anemic growth.
Mortgage rates are at all time lows and Americans are once again leveraging themselves again into 401k's and real estate.  I am concerned that younger investors who haven't gone through the financial crisis are repeating the same mistakes of the past which is buy houses all on credit with no savings reserve.  Once the house of cards comes crumbling down and foreclosures start again we could see another housing crisis.  Most urban areas are unaffordable at the moment to the middle class.  But those of us who have been around knows that with time those imbalances get corrected through real estate crashes.
Negative rates and soaring US debt has placed the country on an unsustainable path where either they cut government spending and entitlements or devalue the currency completely.  Our politicians in DC are doing whatever they can to keep the US dollar down but everyone else in the world is doing something similar in this race to debase.  China, South Americans and the Europeans are winning that race now.
However, even China is suffering with an economic slowdown despite their crashing Yuan.  There are growing concerns of the Pro West supporters in Hong Kong.  Protests have gotten violent showing us there is still a side of China that the West doesn't fully get.
That is why its more important to own gold and silver now more than ever.  For years the major miners have made poor decisions overpaying in risky jurisdictions.  Shareholders have gotten poor with little dividend growth while the management got very rich through options, salary and change of control payments.
Even the gold price moving higher past $1500 USD and into record highs in other fiat currencies has not caused a gold rush into the producers, developers and explorers.  This takes time and confidence that this recent move in gold is here to stay and not just a short term blip.  So far very little money other than Eric Sprott has moved into the juniors and even good exploration results are met with relentless selling.
The money for exploration has dried up over the past generation.  The majors cut their exploration teams back in the last cycle.  Many of the old timers who knew how to mine the gold are gone now into the next world or way past retirement.  The TSX Venture is hitting all time lows while the big banks and Big Board stocks hit all time highs through Government supported share buybacks.  The only answer and turnaround could be a major discovery similar to Hemlo, Eskay Creek or Voisey's Bay to get exploration turned around.
I closely monitor and invest in the junior miners raising money to drill for new discoveries because that is why we are in this sector to make money.  The big money in mining is made in getting in before a discovery hypothesis is confirmed through drilling.  In some cases sentiment in the markets and sector can be so bad that the market doesn't recognize yet the opportunity.  This is where we dig around the press releases and news filing for undiscovered stories not really known yet but could be if they hit on drilling.
1)One of my favorite explorers recently has had some of the best drill results in Canada but for some reason has been hit hard by short sighted sellers despite adding a 3rd drill rig and announcing a winter camp up in Central BC on its 100% owned property.  This exciting explorer is accelerating exploration with this 3rd drill rig.  In my opinion, the adding of this rig and setting up winter camp are the clues in the press release indicating management believes that this system is going to get thicker and higher grade building tonnage.  According to the Chairman, "The continued discovery of very impressive size and grade intervals in the 421 zone in the 2019 campaign are exceeding our expectations."

2)I hear at the Metals Investors Forum in Vancouver conference this little junior drilling right now in the #goldentriangle is run by the Geo who helped build Lumina Copper for billionaire Ross Beaty was a big hit.  They have a target that looks very similar to GT Gold early days and are just starting to drill.  The stock has gotten some recent traction as they made a new discovery sampling over 4 g/t Gold over 100 meters.  This company is going full speed ahead and should start drilling any day now up in the Golden Triangle.
3)Another big turnout at the Metals Investor Forum conference was for this junior that has gotten a lot of interest recently when they announced the start of drilling in Nevada.  This is a new company that is starting to drill within four months of being a public company.   They also just announced DTC eligibility which will allow more US investors to participate.  The property was drilled last by previous operator in 2017 and hit 1.3 g/t over 133 meters.  Recent technical work shows that there could be much more upside.  Let's see what truth machine says in several weeks.  
4) We will be having a new interview with an explorer in the Yukon backed by Newmont Goldcorp hitting exceptional high grade porphyry results right on the road leading up to the Coffee project.  This could be another top takeout target in by 2020.  They intersected 400 m of 1.2 g/t gold in first area tested for a deep porphyry.  New interview with management being published shortly!
Jeb Handwerger is not a registered investment advisor!  Junior Mining Stocks are very risky! Buyer Beware!
Assume Author (Jeb Handwerger) owns shares in featured companies and that I want to sell them for a profit.  Sponsors are website advertisers so that means I have been compensated and have a conflict of interest to help boost awareness of this story. The content of this article is for information only. Readers fully understand and agree that nothing contained herein, written by Jeb Handwerger about any company, including but not limited to, commentary, opinions, views, assumptions, reported facts, calculations, etc. is to be considered implicit or explicit investment advice. Nothing contained herein is a recommendation or solicitation to buy or sell any security. Author is not responsible under any circumstances for investment actions taken by the reader. Author has never been, and is not currently, a registered or licensed financial advisor or broker/dealer, investment advisor, stockbroker, trader, money manager, compliance or legal officer, and does not perform market making activities. Author is not directly employed by any company, group, organization, party or person. The shares of these companies are highly speculative, not suitable for all investors. Readers understand and agree that investments in small cap stocks can result in a 100% loss of invested funds. It is assumed and agreed upon by readers that they will consult with their own licensed / registered financial advisors before making investment decisions. Readers understand and agree that they must conduct their own due diligence above and beyond reading this article. Author is not responsible for any perceived, or actual, errors including, but not limited to, commentary, opinions, views, assumptions, reported facts & financial calculations, or for the completeness of this article or future content. Author is not expected or required to subsequently follow or cover events & news, or write about any particular company or topic. Author is not an expert in any company, industry sector or investment topic.